Fall Weekend Activity
OUR 2016 FALL ACTIVITIES--FAMILY FUN ON THE FARM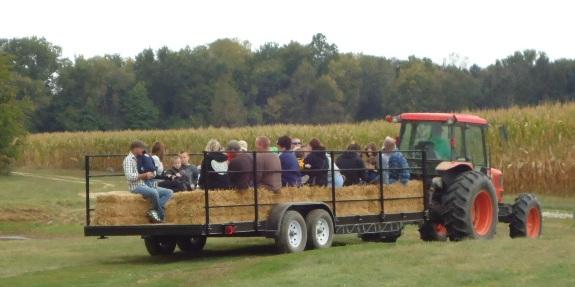 The Fall season is the fun time on the farm. "Family Fun on the Farm" will begin September 16th and continue each weekend through the month of October 2017 with the last day being on Halloween. Our Farm Market is filled with Fall produce, apples, cider, pumpkins, mums, homemade fudge, caramel apples, kettle corn and baked goodies from our own Bakery.
Our Corn Maze 2016 celebrates Indiana's 200th birthday!
FEATURED ATTRACTIONS FOR SEPTEMBER/OCTOBER WEEKENDS 2017
Wagon Ride to the pumpkin patch

***see below



UPick pumpkin--$5 each

7 acre corn maze adventure

20 foot corn field slide

Old McDonald's corn maze

Straw bale maze

Pumpkin Sling--5 shots $1

Jumping Pillow

Corn Dig

Straw Castle

Corn Stalk Tunnel
Duck races
Wildly Fun Rat Race

Corn Hole
See Saw Fun
Tractor Swings

Tire Swings

Granny's Clothesline Zipline

Pony Rides--1 ride with admission; additional ride $5 ***Please see below

***Our wagon rides begin an hour after opening time and continue all day Sat and Sun with the last wagon ride departing at 5 p.m. both days***
***Our Pony rides are limited to 1 free ride for children ages 12 and under and under 4 feet tall. Our Pony, Cookie, will carry 150 lbs and under. Cookie will do rides from 10 a.m.-3 p.m. and she will take lunch from 12-1 p.m. Our Mini-ponies, Bonnie Lou and Buster, will carry 75 lbs and under. They will do rides from 10 a.m. - 3 p.m. as they alternate their time off.
Our "Fun On The Farm" Hours: Saturday 9 - 6 and Sunday 10 - 6

Everyone must purchase a General Admission

wristband for $9

to enter the back of the farm where all the activities are located. Even if you do not want to participate in the activities, you will need to purchase an admission wristband to be admitted to the back of the farm.

Once you purchase your general admission wristband, you may enjoy unlimited access to all the activities in the back of the farm.

The only activities that will have additional cost are the Pumpkin Slingshot, the U-Pick Pumpkin from the patch and additional Pony Rides.

Concessions, pumpkins and other purchases are not included in the General Admission pricing.
Age 2 & under are Free
Church groups, organizations, corporate groups and other groups of 15 or more are welcome at the rate of $7 per person.
"There's no crying on the farm. The only time you cry is when you leave." Paul Mayse